The Curbing Cars Newsletter, 6/21/2020
All the ways we get around, and their intersection with the earth.
The weekly Curbing Cars Newsletter is free, but paid subscribers get all kinds of extras. Please join them and support our journalism. Here's a special offer.
Who Owns City Streets — Cars Or People?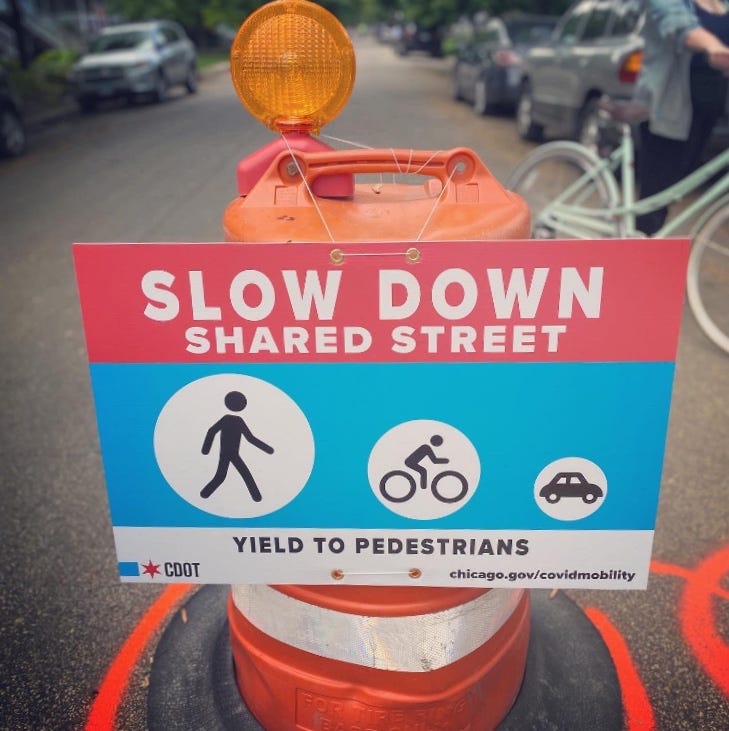 All across America, and around the world, city streets are being transformed into pedestrian zones.
Restaurants are using the extra space to open, or expand sidewalk cafes. Merchants are selling goods on the street, in a fashion they might not have done since the 1800s.
People are strolling, riding bicycles, enjoying roads on which they may never have been able to safely walk.
The activities are a result of COVID-19, which forced millions of businesses to temporarily close. Some won't make it back.
You're seeing scenes that Americans have rarely experienced, although pedestrian zones are common in Europe, South America and parts of Asia.
My town, Ann Arbor, Mich., is among those closing a sample of streets around town to encourage activity. It's even closed Maynard Street, which you can see below, but that's 100% okay with me.
The big question for mayors and urban planners is whether this is a summer 2020 anomaly, or whether people are taking back use of the streets.
We look at this subject on this week's Curbing Cars podcast. (Please subscribe where you get your podcasts.)
The episode opens with Jane Jacobs, the legendary author and urban activist. If you haven't read her book, The Death and Life of Great American Cities, I highly recommend it as a place to start.
In it, Jacobs declared, "Cities have the capability of providing something for everybody, only because, and only when, they are created by everybody."
And she also said, "There is no logic that can be superimposed on the city; people make it, and it is to them, not buildings, that we must fit our plans."
How pandemics shape cities
I asked Richard Florida, who some might call our generation's Jane Jacobs, for his thoughts.
You'll know him as the inventor of the phrase, "the creative class," and he's certainly been a leading proponent of reviving cities, although they've sparked debate in the urban planning world.
"I think the big changes that will last after this is over will be subtle changes in what form of our cities," he says.
"Those are the changes that have stuck around after previous pandemics, wider streets and avenues, expanded and better parks and open spaces, better sanitation, new zoning and building codes that promote open space and ventilation, and even new and healthier building technologies."
For an example, think of Chicago. Right after the great fire of 1870, Chicago's priority was simply putting up buildings to replace those that were destroyed. By the early 1900s, its great architects — Daniel Burnham, John Root and Louis Sullivan among them — had begun transforming the city.
But the Spanish Flu in 1918-19 was devastating to Chicago. My grandmother was among those who fell ill, although she ultimately recovered. Entire tent cities were set up in Chicago's parks, because the hospitals were overloaded.
In the 1920s, Chicago began to respond to the damage the flu had done. Its buildings became much more airy, with wide corridors, and the city began to expand its legendary park system as its residents flocked north and west of the dense Loop.
What can we expect to see out of COVID-19
However Florida isn't looking for such grand appearance changes in 2020.
"This time around I think the big thing that's going to stick are bike lanes," Florida predicts. "That's not a substantial disruption, but more acceleration of something that's been going on."
He adds, "I think we will see some pedestrianization. One thing in it's favor is the fact that restaurants and shops will have to social and physical distance, which will create pressure from the business community to give over more of streets and sidewalks for such activities."
But Florida cautions against thinking this will lead to widespread and permanent changes.
"The question is how much of it will stick in the face of a resumption of more normal life and of traffic," he says." "My hope is we see more of it, but I'm worried that a lot of it will be pulled back."
He wonders if car ownership and car dependence will be the "fault line" in determining how much becomes a part of everyday life.
The role of mayors
It certainly depends on enthusiasm and determination among city leaders. In London and Paris, the mayors have long been proponents of bike lanes.
Even some smaller cities are embracing change. In Guelph, Ontario, a city of 120,000, the mayor, Cam Guthrie, wants to close downtown streets to cars from Thursday through Sunday. The closings would last until fall, and might become permanent.
The pilot project has two parts: allowing businesses to expand patios into parking spots out front, and create a dining district in Guelph, about 60 miles west of Toronto.
"It has to be done quickly. It's important to get this out front right now," Guthrie told Guelph Today, adding that he doesn't want the idea delayed by committees and reports.
Meanwhile, New York and Toronto are being pushed into adding more lanes and space by frustrated citizens who see other cities zooming ahead.. There's even talk of a bike lane on the Brooklyn Bridge, which seems decades overdue.
Says Florida, "I wouldn't be surprised if bike lanes and pedestrianization become significant political issues, and that there is a backlash to them as we begin to get back to normal."
That wouldn't have surprised Jacobs.
As she said years ago, "Dull, inert cities, it is true, do contain the seeds of their own destruction and little else. But lively, diverse, intense cities contain the seeds of their own regeneration, with energy enough to carry over for problems and needs outside themselves."
Some stories worth your time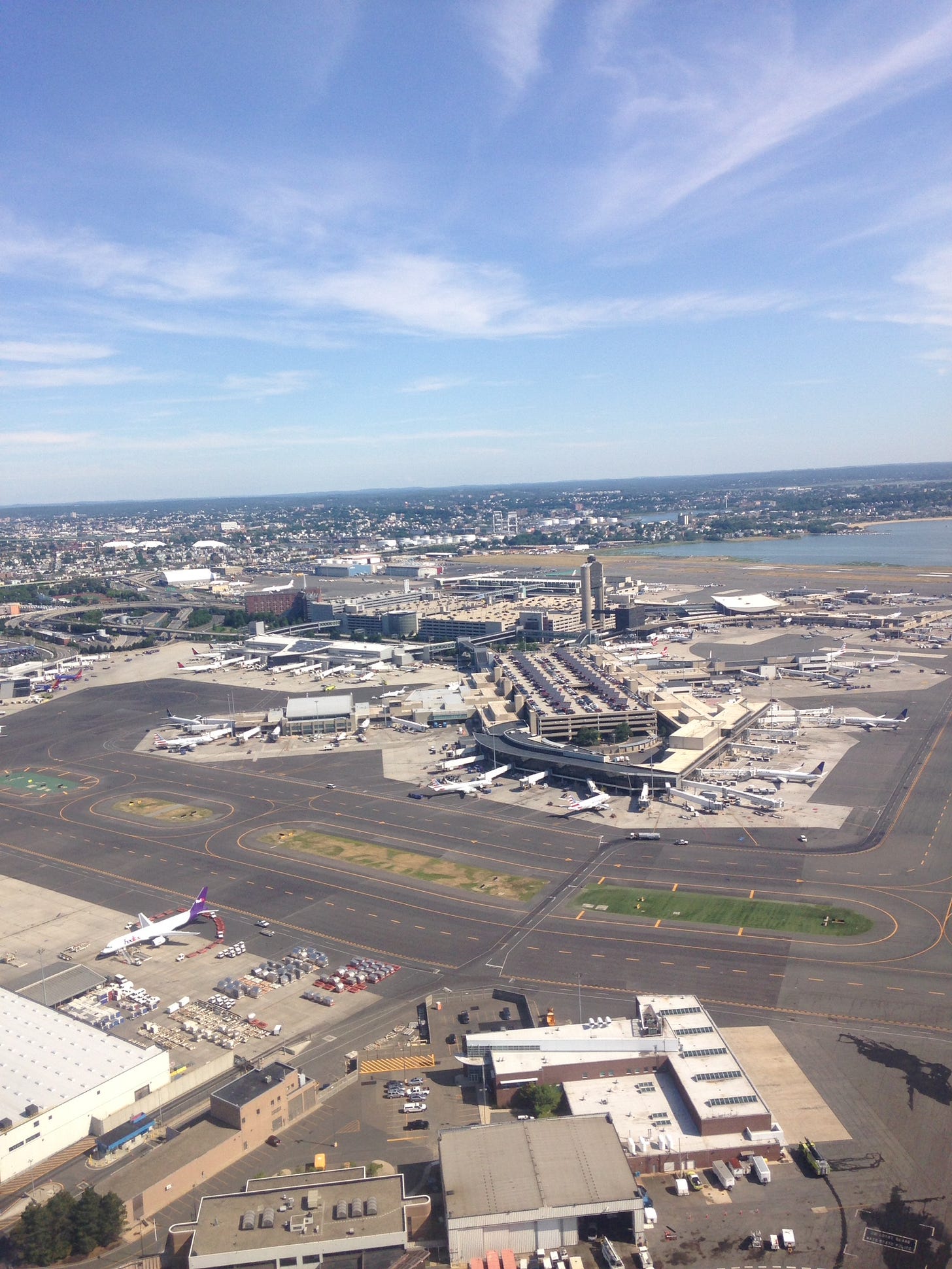 Emissions are on the rise again. Now that factories are back to work, and cars are returning to the world's roads, it should be no surprise that CO2 emissions are climbing again. In April, one study estimated that emissions fell as much as 17 percent, while the world was in lockdown. But they are rising again in China. And, emissions tend to be higher in the summer, when heat plus the spike in electricity use from air conditioning become a factor.
Air traffic limps back. On June 18, airlines operated more than 50,000 commercial flights for the first time since March 24, according to FlightRadar24. That's less than half of the business that took place on the same date in 2019, when the airlines operated 126,754 flights. The firm expects flights to continue rising, but outbreaks could put those plans on hold, as air traffic in China has shown.
Boston air traffic faces a slow rebound. It may take two years for traffic at Boston's Logan Airport to bounce back to 2019 levels, according to MassPort. Logan saw only about one-tenth as many passengers in May 2020 as in May 2019, according to figures presented by Massport Aviation Director Ed Freni. Total trips in April and May, Freni said, were "dismal" with volumes at "rock bottom." A chunk of the lost business came when JetBlue Airways cut flights from BOS, including its daily trips to Detroit. It's slowly starting to add some frequencies back.
Lyft says it will go electric. Lyft, the ride-hailing service, is committing to shifting its fleet to electric vehicles by 2030. It says it's in talks with auto companies to find ways to efficiently use EVs. They cost much more to purchase up front, but can be more economical to operate over the long haul. "We're looking at ways to bridge the economic gap between a gas vehicle and an EV," Lyft president and cofounder John Zimmer said on a conference call, without providing specifics. "We need to make it a financial no-brainer."
Boosting British commutes. EBikes have become popular options for bike sharing companies. Now, 30 communities across Britain are expected to take part in a pilot program offering eScooters for hire. The UK is behind that eScooter trend. In Finland, 41% of respondents to a survey said they had replaced taxi rides or private cars with e-scooters and almost one in five Finns said they had used them for business trips. However, Britain will want to avoid the "scooter rage" that's taken place in the U.S. as scooters appeared unexpectedly in many communities.
Follow Curbing Cars on Twitter @curbingcars and on Instagram @curbingcars.